Prestige GTM03L 3 Burner Glass Manual Gas Stove Rs.3399
If you hope for a multi-burner gas stove but are reluctant to get one as it may not fit on your kitchen counter, opt for the Prestige GTM03L, a three burner gas stove, which has been designed to occupy less space on your counter top. This compact gas stove is available at Snapdeal at an enviable price which will make this a treasured purchase for you.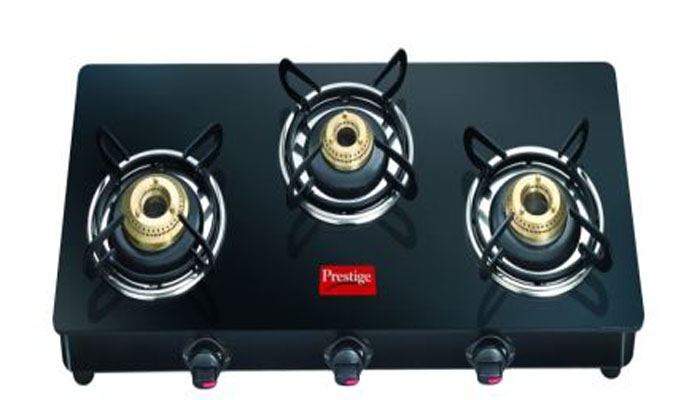 3 High-Efficiency Brass Burners
Measuring 7.62 cm and 6.35 cm and 5.08 cm respectively, the three burners of this efficient gas stove are fashioned from high-quality brass. Brass burners are preferred by modern gas stove manufacturers over the traditional iron burners, as they have been proven to increases the thermal efficiency of the stove by a minimum of 4 % and a maximum of 58 %.  These burners help reduce your spending on cooking gas while saving a precious natural resource.
Stainless Steel Metal Base
The Prestige GTM03L has been built with a strong stainless steel frame. This gas stove with stainless steel frame is designed for daily use in an Indian Kitchen. It adequately supports the glass stovetop too.
Stainless Steel Drip Trays
Protect your kitchen counter from damage because of spilled oil or hot milk with the stainless steel drip trays fitted on this durable gas stove. The drip trays fit snugly under the burner ensuring that your kitchen stays clean.